by Mariana Ochoa
Current
studies
suggest that people who identify or are labeled as gay, lesbian or transgender are at higher risk for turning to substance abuse, often as a mechanism of escape from cultural shaming, family rejection and internalized loathing.
The Village South (WestCare)
, a substance abuse treatment center in Miami, hosted
YES Institute
to provide the latest education on gender and orientation to their clinical staff.
The star of the day was YES Institute speaker Sky, who shared about his journey with gender among his Catholic peers and Haitian family. His moving and frank testimony won over their hearts. Thank you Sky for your amazing sharing!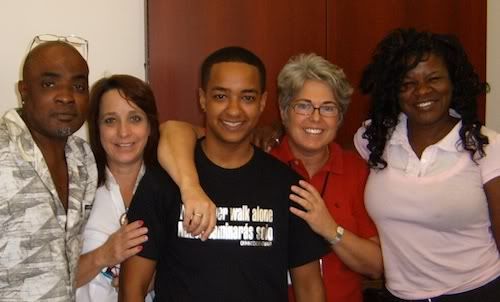 Sky (center) with new Village South (WestCare) friends.
33 year old female said: "I learned that it is important to find out how someone sees themselves in terms of gender instead of just assuming their gender by how they look on the outside."
Working with Village South (WestCare) treatment providers, YES Institute is exploring the possibility of providing additional educational sessions to the center for their clients. Increasing consciousness and acculturation of gender and orientation topics can serve to prevent future youth and adults from having to turn to substance abuse to cope with misunderstanding, alienation, and fear.
49 year old participant said: "The YES dialogue gave me education that I will use in my practice with my clients, and it has made me feel like I will be more open minded."