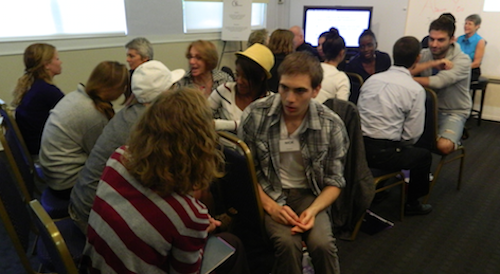 Participants practice the model of communication.
Families, therapists, teachers, and students, came together this month for YES Institute's signature course,
Communication Solutions™
. They shared about their communication breakdowns in their lives, and in particular when things get uncomfortable or too painful we disengage, even with those we are closest to. By the end of the weekend, participants were in action to use their voices, and signed up to be volunteer speakers for YES Institute
community dialogues
.
"I hope to utilize what I have learned this weekend to change the way I relate to people with opposing views. It really opened my eyes that arguing my point is a futile effort. I see that no matter how loud my argument or how well reasoned, my old methods are not the best way to create change. I can now see the humanity in people affording me the opportunity to add generosity to the communication."
- Father of a Miami Dade County Public School Student
"Simplicity and depth are two main ingredients that made this a powerful course. Before there was no choice but to struggle and fight, now, I can move on."
- Graduate Counseling Student
"I don't see communication as challenging anymore, but as opportunities to invest in a real and intangible way with others no matter who it may be. We all have fears and realizing that others are often feeling similar to me helps me to connect."
- Participant from North Carolina
Martha Fugate with participants in Communication Solutions™.