by Deanna Saunders, Communication Coordinator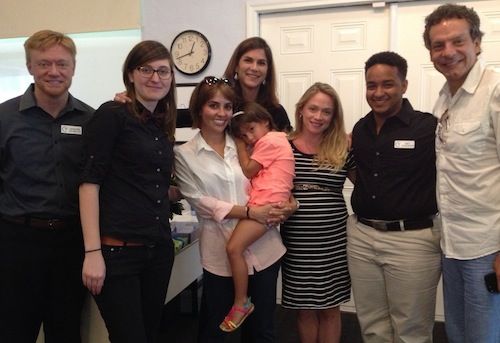 Eduardo, Patricia, and Manuela with YES Institute staff
"Enough!" Eduardo said to his four-year-old child, standing in the bathroom as they got ready for preschool. "We're already letting you wear a dress. You need to wear your boys' underwear!" His child looked up at him as he yelled. She said, "But dad, you need to understand. I'm a girl. Girls wear girl's underwear."
Eduardo's child was born male but had always seen herself as a girl, slipping t-shirts down to waist-level to make skirts and tying scarves like flowing hair. Eduardo and his wife, Patricia, tried to help their child fit in and act like a boy. Painfully, Patricia even began to spend less time with her toddler, blaming her "feminine influence" for her child's behavior. After seeking out education in
YES Institute's Gender Continuum
and bringing YES Institute resources to their child's school, the couple chose to stop resisting their child. They now see her as their daughter.
At YES Institute Speakers Night this August, Eduardo told his story, preparing to share it throughout South Florida and abroad in Colombia with our
Community Dialogues
program. He told his story in Spanish while a volunteer translated. Reaching the part where he yelled at his child, the Colombian business man's voice broke. He said, "I forgive myself for my mistake. I love my beautiful daughter. I only want her to be happy."
After Eduardo's story, Patricia kneeled in front of his chair and put her head against him as they both cried. The couple said that a part of their struggle was feeling alone in their experience, with few people to turn to as role models. Patricia said, "Through sharing our story, we hope that less parents and children experience the pain of uncertainty we went through. We know it will not be an easy path for anyone yet, but to know that one is not alone is a great comfort."
Eduardo and Patricia's story was recently featured on the local Fox News affiliate WSVN Channel 7. Emmy Award winning news anchor Lynn Martinez interviewed Eduardo and Patricia's family and the Executive Director of YES Institute, Rachel Sottile.
Click here to watch the video.
To learn more about
Gender Continuum
and other YES Institute education please contact Caro Hernandez at caro@yesinstitute.org today.