Lauren, a
MAST Academy
Junior, courageously stood before her entire student body and took a bold stand on bullying.
"While physical violence is rare at MAST, that's not the only type of bullying that can cause harm. Name calling, intentionally shunning someone, gossip, and rumors also hurt students. Last year, a girl was called 'slut' repeatedly because she declined a date with a male student. The verbal bullying got so bad, she saw no alternative other than to quit our school. It was her lifelong dream to work hard to get into MAST."
The purpose of the school-wide conference was to raise awareness on bullying and invite MAST students to get involved with No Place for Hate, a program established by the Anti-Defamation League to address many forms of discrimination and harassment.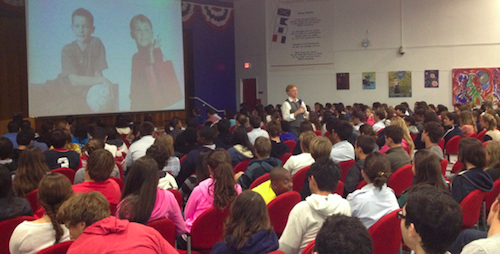 MAST Academy students during dialogue.
YES Institute was invited to speak on bullying rooted in gender and orientation, one of the leading slurs prevalent in US schools today. Joseph Zolobczuk, Director of Education with YES Institute asked the audience, "How many of you hear slurs like 'gay' or 'faggot' used to harass other students?" Nearly the entire room raised their hands while uncomfortable laughter rippled across the auditorium.
Sky Guilbaud, Community Liaison with YES Institute shared, "When students would find out I was Haitian, they would say, 'Do you eat cats? Do you practice Voodoo?' When I was questioning my gender expression during high school, students would come up to me and say 'So what are you, a he-she?' What they didn't see is how all those slurs tore at my heart, and made me feel like I just couldn't be myself. I felt my voice was taken away from me. One day, I swallowed a bottle of pills because I thought I just wanted to end it all. After my suicide attempt, I started volunteering at YES Institute and found my voice again. This is why I'm speaking out today, so no student has to feel uncomfortable in their own skin."
After Sky spoke, students erupted in lengthy applause while many faculty and students were visibly moved to tears by his story. A flurry of hands, questions, and dialogue ensued.
Several students signed up to develop their own powerful voices by participating in YES Institute's Communication Solutions™ taking place over the MLK holiday weekend - Saturday, January 19 & Sunday, January 20. This course is also available to MDCPS faculty for Master Plan Points.
Registration
is open for this course and the entire weekend,
Communicating Powerfully & ReVisioning Gender
. The weekend also includes Parts 1 & 2 of the Gender & Orientation Series™ – Gender Continuum on Friday, January 18, and Deciphering the Matrix of Orientation on January 21. Call today 305-663-7195 to register, or email brittney@yesinstitute.org for more info.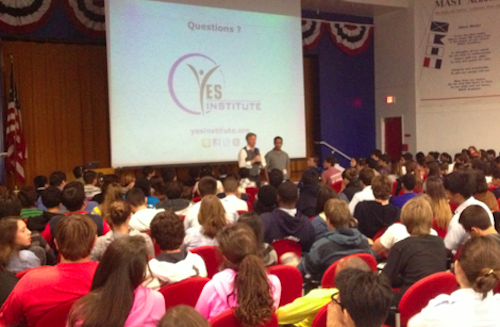 MAST Academy students ask questions to YES Institute staff.